What is Internet or Water Flanders?
Internet of Water Flanders is a research and innovation project to develop and deploy a system to digitally monitor, in real-time, water quality indicators across Flanders.
A network of new low-cost IoT sensors are being installed at selected locations across Flanders. These sensors are placed in different water types: surface water, groundwater and waste water.
The permanently monitored, real-time data will allow authorities, water managers and other involved actors to take immediate and appropriate measures if necessary.
The continuous real-time data flows generated by Internet of Water Flanders complement the measuring networks of the Flemish Environment Agency (VMM), that are based on laboratory analyses of grab samples and data from multi-parameter probes.
This fine-grained measurement network and forecasting system can also be scaled-up for deployment in other regions of the world.
Imec's fluid sensor is central to the expansion of this network. This sensor measures acidity (pH), salt concentrations (electrical conductivity) and temperature.
The sensor itself consists of a silicon chip in which three sensor elements are integrated. The expected cost per sensor is at least 10 times lower than comparable sensors on the market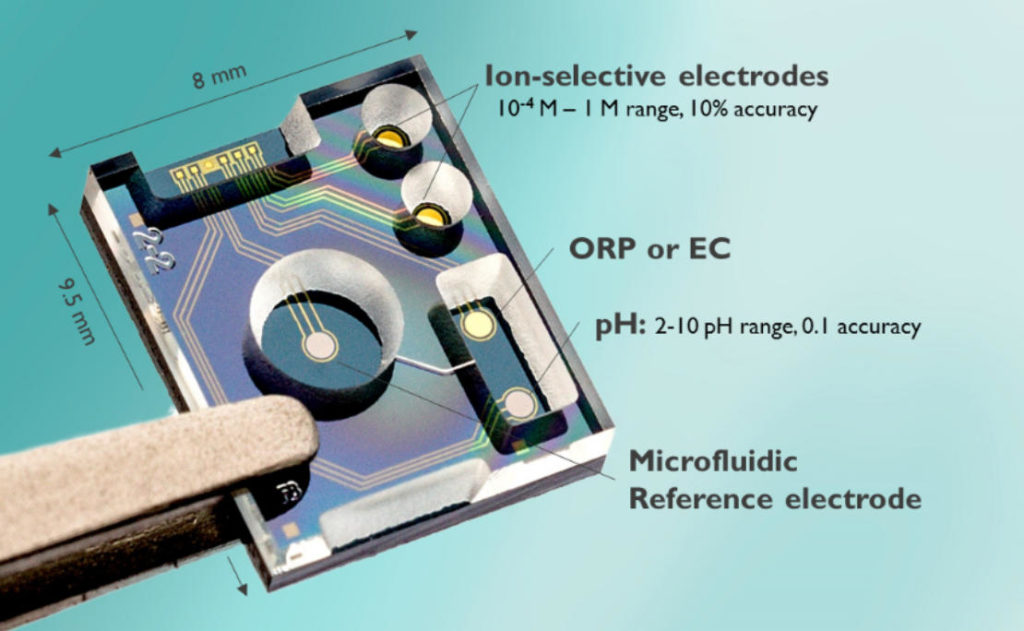 The large-scale sensor infrastructure and permanent data flows open up unprecedented possibilities for intelligent applications.
Innovative algorithms and hydrological models are being used to process the large amount of data to monitor in real-time the degree of salinization and other challenges in our water system. At the same time, future environmental trends become more predictable. This delivers practical and useful information to underpin short- and long-term water management actions.
Precisely chosen locations
The sensors are placed in streams, rivers and canals, but also in the groundwater boreholes and at wastewater treatment facilities.
These locations are not chosen randomly. By placing the sensors in precisely selected  locations, local water-related problems and challenges can be better tackled.
Discover more about what specific water problems will be dealt with. 
First phase: sensor development
The project is designed around two key phases. In the first years (2020 and 2021), research project partners imec and VITO focus on the development and testing of the fluid sensors and the digital architecture to set up the data stream and the data analytics. The development of a robust and affordable device for accurate, long-term measurement of a range of water quality indicators in an integrated manner, is one of the project's greatest challenges. 
Second phase: network roll-out
The development and testing of the sensors will be followed, in 2022 and 2023, by the full roll-out of the network and the development of the analytical software.
Thus, within 4 years, the IoW partners will jointly realize an operational fine-grained monitoring and forecasting system that can be scaled-up for deployment in other regions of the world. IoW has the capability of continuously monitoring several water quality indicators in surface, ground and waste waters. It therefore provides valuable information to support water management decisions and our future water policy.