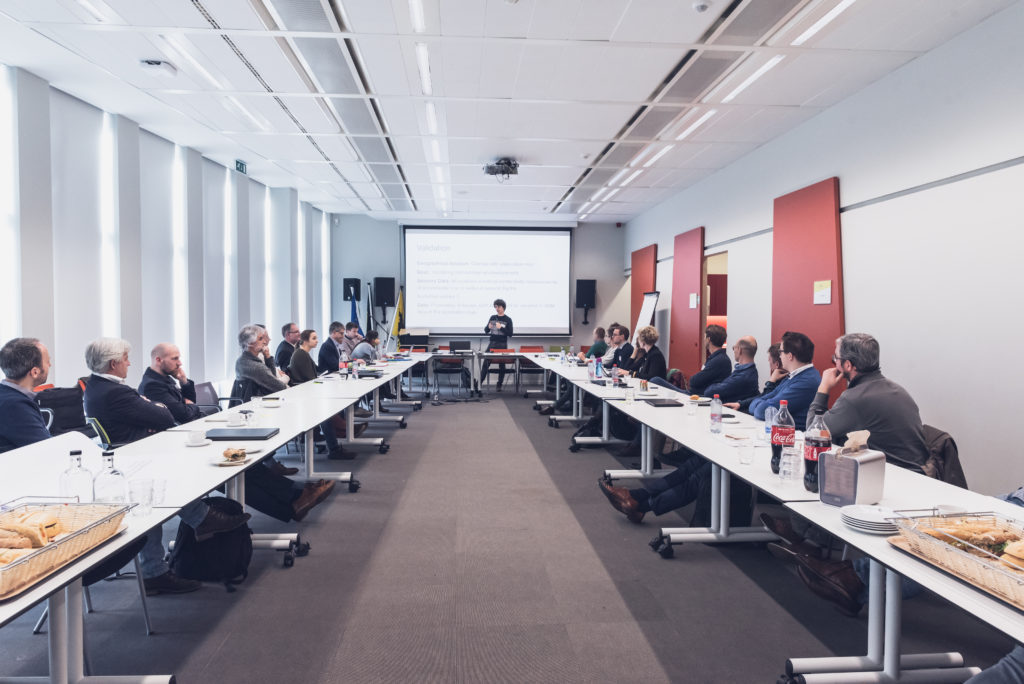 On 6 March 2020, Internet of Water Flanders welcomed more than 30 stakeholders in Bruges for a workshop on the problem of water salinization in Flanders. The goal of the event was to develop one of the most important use case for Internet of Water Flanders: salinization.
Polders and port areas
Salinization is one of the major water challenges that Flanders is facing. Internet of Water Flanders will develop data applications based on real-time monitoring that allow water managers to take better-informed management decisions.
For the development of this use case IoW focusses on the salinization of surface and groundwater. The areas where salinization will be closely monitored are: the North Sea coastal region and polders, the area near the port of Ghent (North Sea Port) and the port area of Antwerp.
Dialogue and exchange
Among the invited stakeholders were water managers and water users who are confronted with the salinization problem, as well as experts and scientists.
All workshop participants shared ideas on how the project can offer the best possible solution for their specific challenges. A good dialogue between project partners and stakeholders is crucial for the development of this use case and should lead to a measuring network that alleviates the various needs of the stakeholders.
The project partners started the workshop with an overview of the progress that the research project has made, followed by a general overview of the use cases of the project partners.
After lunch, parallel brainstorm sessions were organised in which the participants discussed their specific salinization problems and then indicated how the IoW Flanders sensors can contribute to providing a solution.
It became clear that salinization in the polders poses a threat to both agriculture and nature and that the impact of salinization on large water users in the ports of Ghent (North Sea Port) and Antwerp should not be underestimated.
The brainstorm sessions made clear that there is in fact a great need for real-time data and a data processing system that focusses on alarms (with well determined 'triggers') and systems analysis.
At the end of the workshop some participating stakeholders gave a pitch presentation about the impact of salinization on their sector and or region:
• Nature conservation organisation Natuurpunt presented the Uitkerkse Polder;
• Port of Antwerp presented the port area and associated activities
• University of Ghent presented the Ghent-Terneuzen canal (near the Port of Ghent)
• University of Ghent and KU Leuven (KULAK) presented the mapping of salinization at the Flemish coast.
• The Flanders Land Agency (VLM) presented the 'Oudlandpolder' agreement.
Useful information when choosing a location
The IoW Flanders project consortium will use the valuable information from the workshop to determine the specific zones and locations for the IoW Flanders.
Stakeholders will be further involved in the final choice of location and in the definition of the applications and the users' requirements.
The participants' presentations at the workshop can be downloaded here (in Dutch):
Introduction workshop about Internet of Water Flanders by Koen Triangle (imec City of Things)
Presentation Use case Salinization by the project consortium: Piet Seuntjens (VITO), Nele Desmet (VITO), Louise Vanysacker (De Watergroep), Youri Amerlinck (Aquafin), Dieter Vandevelde (VMM)
Salinization in the region around the Ghent-Terneuzen Canal by Prof. Ingmar Nopens (UGent)
Presentation of projects on the mapping of salinization and seawater infiltration in the polders by Wouter Deleersnyder (UGent and KULAK)
Presentation of the 'Oudlandpolder' Agreement by Jan de Bie (VLM)